The 3rd quarter of 2020 brought something somewhat foreign to investors as of late: stability.

Whereas Q1 2020 was mostly straight down, and Q2 was mostly straight up, Q3 was mostly where it should be – steady up and to the right: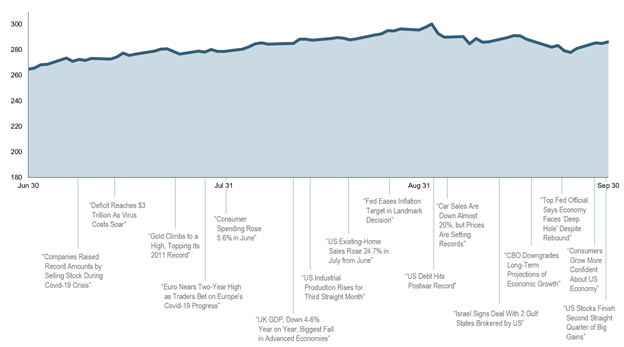 This quarter's economic trivia:

Copper as a commodity can be helpful to follow because it is tightly correlated to expansions and contractions of an economy (because of its widespread use in so many industrial applications).  For the quarter, "Dr. Copper" was:
Up 10.28%
Up 3.24%
Flat
Down 5.72%
Sweden and Denmark were the two strongest performing developed markets for the quarter, up ____ and ____, respectively.
Sweden: 16.98%, Denmark: 15.31%
Sweden: 12.61%, Denmark: 9.80%
Sweden: 8.45%, Denmark: 5.32%
Sweden: 3.97%, Denmark: 2.64%
Over the last 12 months (from 09/30/2019, including COVID), the US Market is:
Doing pretty well
Limping along
Still having a bad day
Prefer not to know